Schedule Routine Skin Checks with Experienced
Dermatologists Serving the Little Rock Area, Central
Arkansas, and Beyond
The Little Rock area's Dermatology Group of Arkansas encourages routine full body skin exams as part of a comprehensive effort to maximize positive outcomes for patients facing skin cancer, a potentially deadly disease that has a much better prognosis if caught early.
Melanoma, in particular, can grow and spread fairly rapidly within the body, so identifying it and starting a treatment plan to stop it before it can involve the lymph nodes and other organs is vital.
Contact Us Today
Schedule your full body skin exam for the Little Rock and beyond. Call us at the Dermatology Group of Arkansas at 501-227-8422.
What Does a Full Body Skin Exam Involve?
The name basically says it all. A full body skin exam involves a dermatologist making a thorough examination of your skin from head to toe, particularly keeping an eye out for concerning spots or lesions that could indicate the presence of skin cancer.
Patients will need to remove their clothing in order for our dermatologist to be able to fully see as much skin as possible. While melanoma and other cancers tend to develop on sun-exposed areas, they can appear virtually anywhere on the body—including under fingernails and toenails. For this reason, it is important to not wear any nail polish that would get in the way of clearly seeing the skin beneath the nail. Similarly, avoid wearing any makeup.
Your dermatologist will visually examine all visible skin, noting any spots that should be tested or biopsied.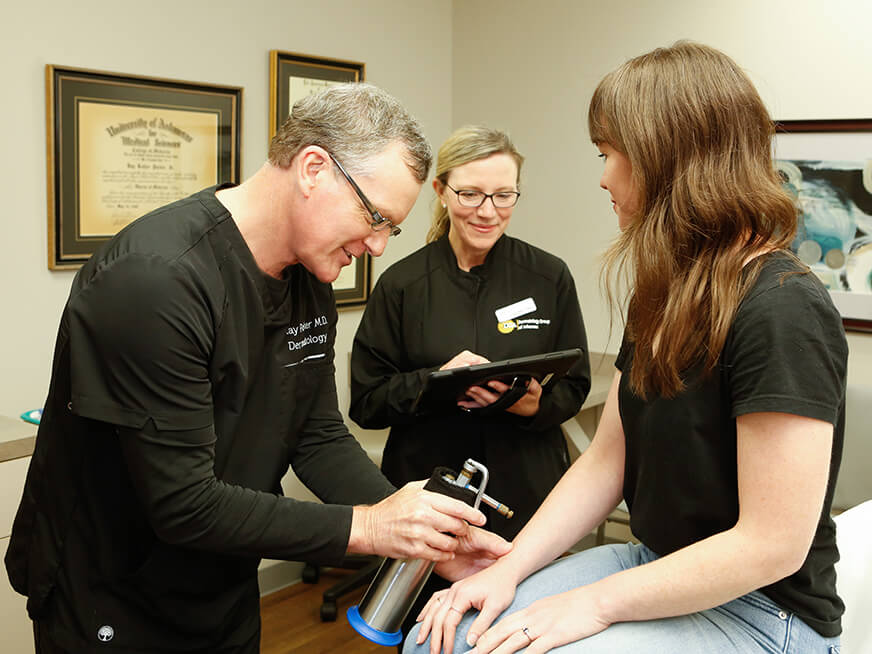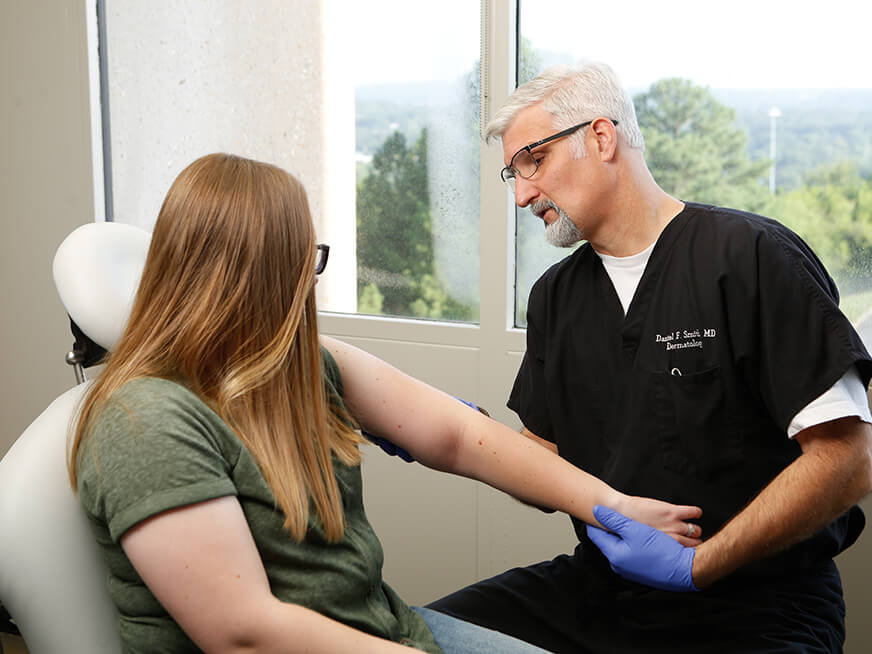 Are Self-Conducted Full Body Skin Exams
Important?
While we can identify, test, diagnose, and treat a wide assortment of medical conditions that may be revealed during a full body skin exam, you are the foremost authority on your own skin. Since you live in it every day, you are the one who will notice first that a new spot has appeared on your shoulder or that a mole has grown distinctly larger in a matter of months.
By giving yourself full body skin exams once a month—or asking a trusted partner to help by looking over areas that are difficult for you to see—you can help us to get a more complete and accurate picture of your skin health.
What Can a Full Body Skin Exam Detect?
For many patients, the primary purpose of a full body skin exam is to identify worrisome lesions that could be skin cancer. This is a very important aspect of the examination, but the visual check can also identify symptoms of other skin diseases, chronic issues, and even underlying health problems that manifest in the skin.
Contact Us Today
Contact the Dermatology Group of Arkansas about full body skin exam in the Little Rock area today. Call 501-227-8422.
Our team at Dermatology Group of Arkansas is looking forward to hearing from you and building a relationship to help you get your best skin possible. Follow us online, reach out to us directly to set up a meeting, or both!